Find your MiSight® 1 day certified doctor...
MiSight® 1 day contact lenses are the first and ONLY soft contact lenses that are FDA approved* to slow the progression of myopia in children aged 8-12 at the initiation of treatment.2†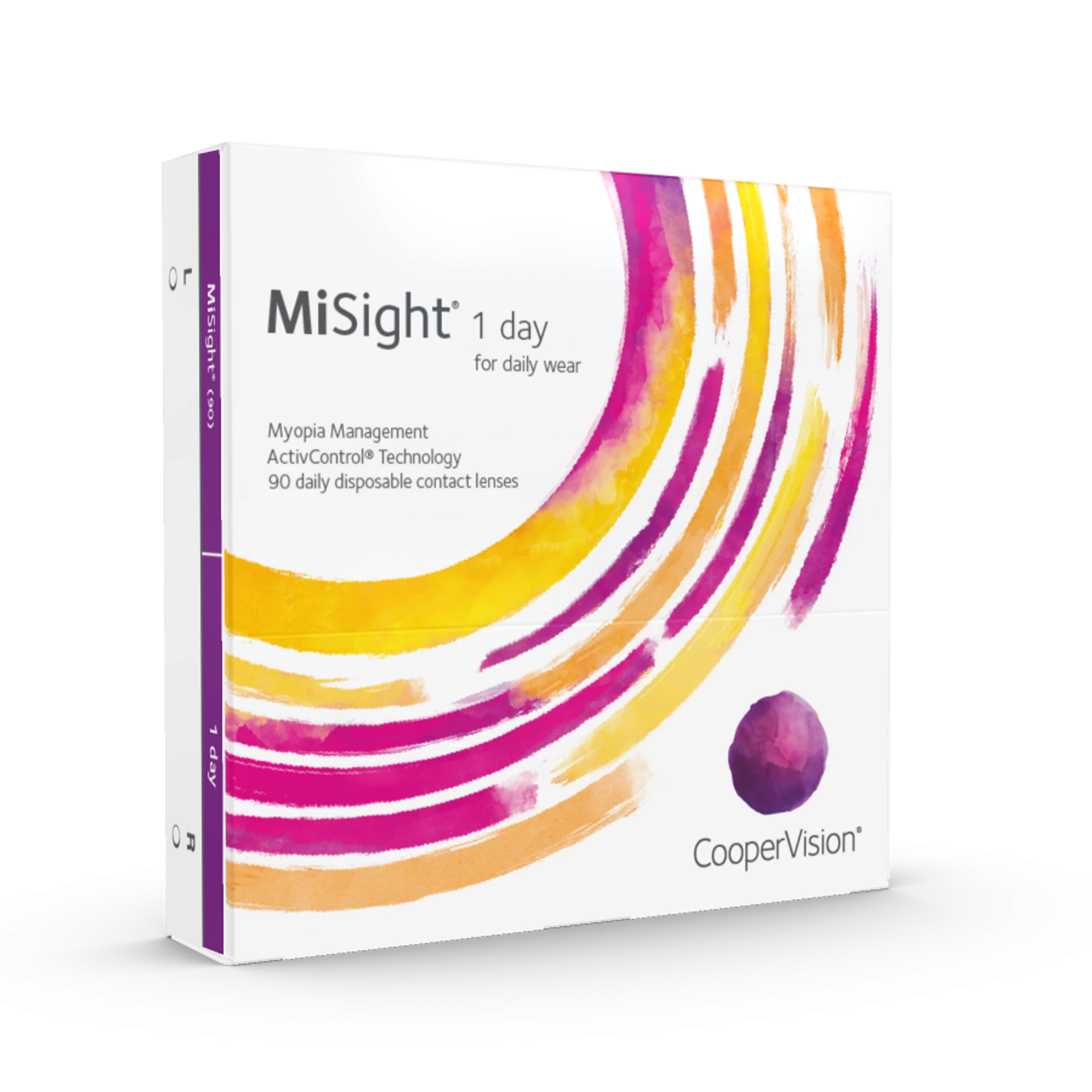 MiSight® 1 day Gives Violet the Confidence to Chase Her Dream
At age 11, Violet is an Olympic hopeful. She's been skating since she was 3½-years-old and has her eyes on winning gold for Team USA. But when the family sat down to watch a skate program on TV, and Violet couldn't see the score box on the screen, Violet's mother had a revelation:
"Oh my goodness, she has nearsightedness just like we did when we were younger."
Living Her Best Life with MiSight® 1 day
Vera's mother has struggled with high myopia. With MiSight® 1 day, Vera may never need to share that experience.
With the guidance of Dr. Jonathan Andrews, Dr. Katie Andrews, and the team at Optometric Associates, 11-year-old Vera has slowed the progression of her myopia with MiSight® 1 day for myopia control.1† Wearing the contact lenses daily for the past two and a half years, she has enjoyed good vision1-3 and has been living an active lifestyle without setbacks. Prior to MiSight® 1 day, Vera's prescription was getting worse every six months.
Adam's Vision for the Future Is Bright
Eleven-year-old Adam's eyesight problems plagued him in all areas of his life, but none were more frustrating than on the ice while he played hockey. His glasses didn't fit under his helmet and seeing the puck clearly while skating at quick speeds was a challenge. After a tryout where he didn't make the team, his mother, Selma, knew they needed to take Adam to get his vision checked.
Nothing's Stopping Fatima with MiSight® 1 day
Fatima's journey with glasses started when she was nine. She thought it would be cool to wear glasses like her older sister. But when she tried on her sister's glasses for fun one day, she didn't just like the way she looked in them; she also noticed that she could see more clearly with them on. "That told me I might need eyeglasses like my sister. For actual seeing, not just for looking good," she says.
The Best of Both Worlds for Aashini's Eyes
Aashini struggling to see the whiteboard was the first sign to her parents that she was developing nearsightedness. But Ahanitha, Aashini's mother, says she wasn't surprised. "My husband and I both have myopia, so Aashini's more likely to become nearsighted as well." In fact, when one parent is nearsighted, a child is 3x more likely to develop the condition1, and when both parents are nearsighted, as is the case for Aashini, the child is 6x more likely.2
Olivia & Madeline Are Seeing the World Together
Valerie and Greg always knew their 8-year-old twins, Olivia and Madeline, might develop myopia – the medical term for nearsightedness – because they did as children. Myopia tends to run in families, and the chances of a child developing myopia increases 6x when both parents have the condition.1 "It was always a challenge," says Valerie, remembering their childhood struggle with myopia.
Now Marianne Is Living Life To The Fullest
Marianne is a vibrant and sporty 13-year-old thriving in soccer and cheerleading. At a young age, concerns arose about her myopia, but her parents found the perfect solution - MiSight® 1 day lenses. Now, she plays sports fearlessly, free from glasses, thanks to these contact lenses. With Marianne's prescription stable for two years,†1 she's living life to the fullest. Learn more about her inspiring journey.
Sofia Is Paving The Way For Success
Sofia is a bright 8-year-old with a promising future. Her family's history of severe myopia inspired her parents to seek the best treatment solution to control Sofia's myopia progression. With her mom's experience working in an optometry clinic, they found MiSight® 1 day contact lenses. Sofia's life has transformed as she enjoys the newfound freedom her contact lenses provide, helping her live life to the fullest. Learn more about her inspiring journey with myopia and how she faces the challenge with the love and support of her dedicated parents.
For consumer care call:
1-855-526-6737
Indications and Important Safety Information 
Rx only. 
Results may vary
†0.25D or less of change.
1. Chamberlain P, Arumugam B, Jones D et al. Myopia Progression in Children wearing Dual-Focus Contact
Lenses: 6-year findings. Optom Vis Sci 2020;97(E-abstract): 200038
ATTENTION: USA Indications: MiSight® 1 Day (omafilcon A) Soft (Hydrophilic) Contact Lenses for daily wear are indicated for the correction of myopic ametropia and for slowing the progression of myopia in children with non-diseased eyes, who at the initiation of treatment are 8-12 years of age and have a refraction of -0.75  to -4.00 diopters (spherical equivalent) with ≤ 0.75 diopters of astigmatism. The lens is to be discarded after each removal.
Canadian Indication: MiSight (omafilcon A) Soft Contact Lenses for Myopia Control are indicated for the correction of ametropia (myopia and hyperopia) in aphakic and non-aphakic persons with non-diseased eyes in powers from -20.00D to +2.00 diopters. The lenses may be worn by persons who exhibit astigmatism of -2.00 diopters or less that does not interfere with visual acuity. MiSight (omafilcon A) Soft Contact Lenses for Myopia Control may reduce the rate of myopia progression in children (6-18) and correct ametropia.  Reduction of myopia progression was observed in children with wearing time of 12 hours (8-16 hours) per day, 6.4 days (5-7) per week in a clinical study. Permanent myopia control after lens treatment is discontinued is not supported by clinical studies. MiSight (omafilcon A) Soft Contact Lenses for Myopia Control are indicated for single use daily disposable wear.  When prescribed for daily disposable wear, the lens is to be discarded after each removal. Warnings: Problems with contact lenses could result in serious injury to the eye.  Do not expose contact lenses to water while wearing them. No overnight wear. Patients should exercise extra care if performing potentially hazardous activities. Adverse events:  Including but not limited to infection/inflammation/ulceration/abrasion of the cornea, other parts of the eye or eyelids.  Some of these adverse reactions can cause permanent or temporary loss of vision.  If you notice any of the stated adverse reactions in your child, immediately have your child remove the lenses and contact your eye care professional.
​