Find your MiSight® 1 day certified doctor...
Violet's Story
MiSight® 1 Day Gives Violet the Confidence to Chase Her Dream
At age 11, Violet is an Olympic hopeful. She's been skating since she was 3½-years-old and has her eyes on winning gold for Team USA. But when the family sat down to watch a skate program on TV, and Violet couldn't see the score box on the screen, Violet's mother had a revelation:
Oh my goodness, she has nearsightedness just like we did when we were younger."
Violet's mother
Both of Violet's parents wore glasses as children and knew the symptoms of myopia which include squinting, blurry distance vision, and headaches. Myopia, the medical term for nearsightedness, tends to run in families – the chances for a child to develop myopia increase 3x if one parent
1
has the condition and 6x if both parents do.
2
Myopia occurs when your eyeball is longer than normal, or your cornea is curved too steeply. Instead of being focused precisely on your retina, light is focused in front of the retina, resulting in a blurry distance vision.3 If left untreated, nearsightedness can lead to other complications later in life like glaucoma, cataracts, retinal detachment, and macular degeneration.4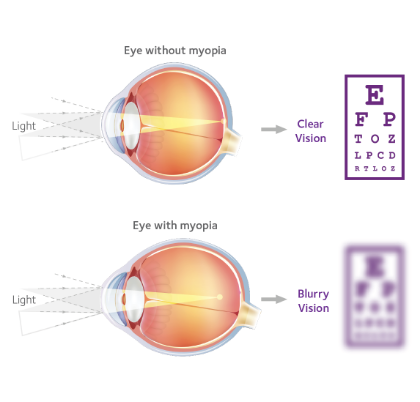 Myopia often worsens with age, and because of this, Violet's parents were worried about the effects this could have on their daughter's ice skating and her dream to skate for Team USA.   A year after her initial diagnosis, her myopia worsened, and her parents decided to be proactive. They went to the optometrist to figure out what they could do to slow down the progression of her myopia. They were prescribed MiSight® 1 day contacts lenses, the innovative lens by CooperVision® for age-appropriate children who have myopia. These lenses are designed to correct distance vision immediately,5 while also helping to control myopia progression6 with consistent use.
Since starting the lenses, Violet's vision has remained at the same level. Violet has adapted to the lenses easily, saying "It only takes a minute to put them in." The best part is that it doesn't interfere with her training. Violet spends over 20 hours on the ice or training any given week, and MiSight® 1 day allows her to do so with confidence. "It makes me feel confident and reassured because I don't have to worry about my myopia progressing, and I know it won't be an obstacle to reach my goals."
For consumer care call:
1-855-526-6737
Indications and Important Safety Information

Rx only. Results may vary.

ATTENTION: USA Indications: MiSight® 1 Day (omafilcon A) Soft (Hydrophilic) Contact Lenses for daily wear are indicated for the correction of myopic ametropia and for slowing the progression of myopia in children with non-diseased eyes, who at the initiation of treatment are 8-12 years of age and have a refraction of -0.75 to -4.00 diopters (spherical equivalent) with ≤ 0.75 diopters of astigmatism. The lens is to be discarded after each removal. Canadian Indication: MiSight (omafilcon A) Soft Contact Lenses for Myopia Control are indicated for the correction of ametropia (myopia and hyperopia) in aphakic and non-aphakic persons with non-diseased eyes in powers from -20.00D to +2.00 diopters. The lenses may be worn by persons who exhibit astigmatism of -2.00 diopters or less that does not interfere with visual acuity. MiSight (omafilcon A) Soft Contact Lenses for Myopia Control may reduce the rate of myopia progression in children (6-18) and correct ametropia. Reduction of myopia progression was observed in children with wearing time of 12 hours (8-16 hours) per day, 6.4 days (5-7) per week in a clinical study. Permanent myopia control after lens treatment is discontinued is not supported by clinical studies. MiSight (omafilcon A) Soft Contact Lenses for Myopia Control are indicated for single use daily disposable wear. When prescribed for daily disposable wear, the lens is to be discarded after each removal. Warnings: Problems with contact lenses could result in serious injury to the eye. Do not expose contact lenses to water while wearing them. No overnight wear. Patients should exercise extra care if performing potentially hazardous activities. Adverse events: Including but not limited to infection/inflammation/ulceration/abrasion of the cornea, other parts of the eye or eyelids. Some of these adverse reactions can cause permanent or temporary loss of vision. If you notice any of the stated adverse reactions in your child, immediately have your child remove the lenses and contact your eye care professional.

†Compared to a single vision 1 day lens over a 3 year period.

References:
1. Jiang X, Tarczy-Hornoch K, Cotter SA, et al. Association of Parental Myopia With Higher Risk of Myopia Among Multiethnic Children Before School Age [published online ahead of print, 2020 Mar 19]. JAMA Ophthalmol. 2020;138(5):1-9.
2. Mutti DO, Mitchell GL, Moeschberger ML, Jones LA, Zadnik K. Parental myopia, near work, school achievement, and children's refractive error. Invest Ophthalmol Vis Sci. 2002;43(12):3633-3640. doi:10.1001/jamaophthalmol.2020.0412.
3. https://www.mayoclinic.org/diseases-conditions/nearsightedness/symptoms-causes/syc-20375556.
4. Flitcroft DI. The complex interactions of retinal, optical and environmental factors in myopia aetiology. Prog Retin Eye Res. 2012;31:622-60.
5. Rah MJ, et al. Vision specific quality of life of pediatric contact lens wearers. Optom Vis Sci2010;87(8):560-6.
6. Chamberlain P, et al. A 3-year randomized clinical trial of MiSight® lenses for myopia control. Optom Vis Sci. 2019; 96(8):556-567.