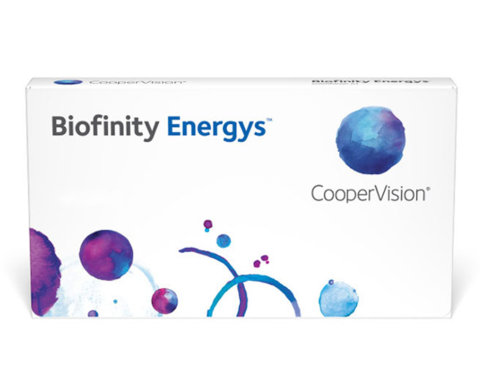 Biofinity Energys™
Biofinity Energys® are monthly contact lenses designed to tackle eye tiredness and eye dryness associated with everyday digital device use1,2
Biofinity®—committed to innovation, committed to comfort.
Using digital devices for more than two hours a day puts you at risk of tired and dry eyes3
Digital Zone Optics™ lens design helps reduce the feeling of eye tiredness1
Aquaform® Technology retains moisture to help minimise eye dryness2
High breathability: allows 100% of the oxygen to reach your eyes4, to help them stay clear and white**
The features you'll love

A breakthrough in contact lens technology

Digital Zone Optics® lens design reduces stress on the eye muscles you use to focus on digital devices*, so you can shift focus between on-screen and off-screen with less effort.

Aquaform Technology locks in water, helping your eyes feel less dry when blinking less often from viewing screens.
Unsure which products are best for you?
Take this four question quiz to discover which of our products may best fit your needs.
Find Your Lens
**High-oxygen transmissibility promotes clear, white eyes.  
References:
1. Kajita M, Muraoka T, Orsborn G. Change in accommodative micro-fluctuations after wearing contact lenses of different desgins. Cont Lens Anterior Eye. 2020 in press https://doi.org/10.1016/j.clae.2020.03.003
2. CooperVision data on file. 2006. Aquaform® Technology uses a matrix of long silicone chains with hydrogen bonds to lock water molecules in the lens for incredible, long-lasting comfort and clarity.
3. The Vision Council. Hindsight is 20/20/20: protect your eyes from digital devices: 2015 digital eye strain report.
4. Brennan, NA. Beyond Flux: Total Corneal Oxygen Consumption as an Index of Corneal Oxygenation During Contact Lens Wear. Optom Vis Sci. 2005;82(6):467-472.