You can upload your rebate right from your computer or mobile device, with no need to mail in your documents.
Follow these 3 simple steps to get your 2023 rebate:
Step 1
Qualifying CooperVision® contact lenses must be purchased from an authorized eye care professional between January 1– December 31, 2023. 
Don't have one? Click here to find an ECP 
Step 2
Apply online at CooperVisionRewards.ca using your computer, tablet or mobile device within 60 days of purchase.
• Provide a valid accessible email address
• Include all required documentation:
Sales Receipt MUST INDICATE ALL of the following:
- Contact lens brand and price
- Customer name and address
- Original purchase date
º Credit card slips will not be accepted
Two product End Panels:
Must contain the brand name, contact lens type, or prescription information.
Examples are available during claim submission.
Step 3
Reminder: Look for the rebate confirmation email from:
notification@coopervisiondigitalrewards.com
Important: Also check junk or spam folders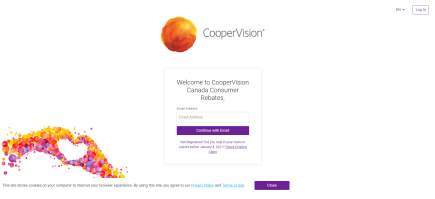 Required documents:
You will be prompted to upload images of the required documents and have a valid and accessible email address to get your CooperVision Visa* Prepaid card.
To complete your online submission, you will need to upload the following:
 Original dated sales receipt with eligible lens purchase(s).
 Two product box end panels (one for each eye) showing prescription information. Photos accepted.

Rebate must be postmarked within 60 days of lens purchase. Rebate paid in the form of a convenient CooperVision Visa* Prepaid card.


Important: For lenses purchased between July 1st and December 31st, 2023, please ask your Eye Care Professional to provide you with our Second Half Promo Rebate Form from 2022.
Rebate must be submitted within 60 days from the date of lens purchase.
©2023 CooperVision, Inc., CooperVision, Biofinity, MyDay and Proclear are registered trademarks; and clariti, Biofinity Energys and Serenity are trademarks of The Cooper Companies, Inc., its subsidiaries or affiliates.