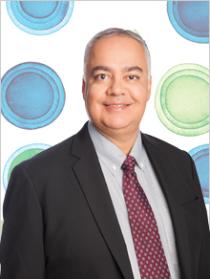 Simon Seshadri
Vice President of Marketing, Americas
Simon serves as Vice President of North America Marketing. Before accepting this position in June 2015, he was the Sr. Director, Brand Marketing and Commercial Strategies, with global responsibility for the Biofinity and Avaira brands.
Simon Seshadri joined CooperVision in 2014 as Senior Director of Global Marketing, with responsibility for the frequent replacement brand portfolio. He leads the development and activation of global brand strategies, via the alignment of go-to-market plans with CooperVision's regional commercial teams.
Prior to joining CooperVision, Simon served in a variety of country, regional and global marketing leadership roles with responsibilities encompassing the management of brand, professional, trade and digital marketing teams at consumer & B2B healthcare organizations such as Boots Healthcare, Philips Oral Healthcare, Bausch + Lomb and GE Healthcare.
Simon holds a Bachelor of Commerce degree in Marketing from the University of British Columbia, and an MBA in General Management from the London Business School. During the MBA he completed a semester of study at the China Europe International Business School, in Shanghai.
A native of Vancouver, Canada, Simon has worked in Japan, the UK and the US, and he is fluent in Japanese. He resides with his wife and daughter in Pleasanton, California.