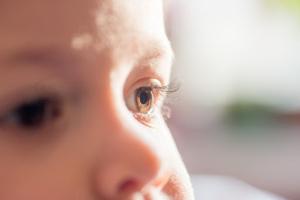 Myopia, also known as nearsightedness, has been at the forefront of optometry discussion in recent years, especially in pediatric eye care. It's one of the most common vision conditions affecting Canadians. Thirty-three percent of children in Canada are affected by myopia, and that number is growing.1
Parents play a critical role in supporting their child's myopia management journey. This includes routine eye exams, compliance with treatment, and promoting healthy eye habits.
Why parents should be involved in myopia management
When a child is found to be at risk of developing myopia or has myopia, the conversation between the parent and Eye Care Professional is vital. As the main decision-maker, the parent must ultimately choose the best course of myopia management for their child. However, when appropriate, the child may also be involved to ensure correct techniques and compliance are implemented for optimal results.2
Myopia management probably won't be your child's driving factor in starting contacts and committing to their eye health. Young children don't tend to have the discipline or understanding of what severe eye health complications mean for their future. This said, individuals are far more likely to comply with eye management options when it's their choice to take action for their personal benefit.2
Tie in the advantages of myopia control with your child's favourite activities. Whether it's playing a sport they love or jumping on the trampoline with ease—find something they'll be excited about to aid in compliance.
Recommendations to parents on slowing down myopia progression in children 
Monitor reading and near-vision activities
As a parent, you can control the hours of TV, computing, reading, and other near-vision activities your child's engaged in. When reading, it's beneficial to encourage your child to not hold the book too close to the eyes and to sit properly. Reading in bed and in moving cars should be discouraged since it's hard to maintain a proper distance. If you have a child in preschool, choose books with large print and lots of colourful pictures.3 
Take "eye breaks"
This probably doesn't come as a surprise, but the less screen time the better when dealing with myopia management. According to the Canadian Association of Optometrists (CAO), for children zero to two years old, screen time isn't recommended, save for the occasional video call. For pre-schoolers, screen time of no longer than one hour at a time with regular breaks is recommended.4
For children five and older, the CAO recommends recreational screen time of not more than two hours.4 Regular breaks, such as the 20-20-20 rule,5 may be used to give their eyes a rest. The 20-20-20 rule means that for every twenty minutes spent using a screen, your child should try to look at something that's twenty feet away for twenty seconds.5 Setting a timed reminder is a great way for your child to remember to take eye breaks when using a screen. 
Adjust lighting
Make sure to check your lighting at home to ensure adequate brightness. Replacing worn out light bulbs and installing the necessary reading lamps may help prevent eye strain or worsening of your child's myopia.6,7 Your child should never try to read in the dark or anywhere without proper lighting. 
Get outside
Prolonged near work, increased screen use, and less time outdoors has been linked to elevated risks of developing myopia in children.8 An increase of just one hour per day of outdoor time results in a staggering 45 percent reduction in the occurrence of myopia in children.8 It's particularly helpful to bring your child outside in the evening to play. Make sure homework is completed early so there is minimal near work before bedtime. 
Schedule routine eye exams
Frequent eye exams are the best defence you have against myopia. In children, myopia can be diagnosed early and management treatments can be implemented to help slow the progression of this refractive condition. 
It's recommended to schedule your child's first eye exam when they are six to nine months old.8,9 The next eye exam should be scheduled anywhere between the age of two and five.8,9 Annual eye exams should start at age six and continue into adulthood.8,9
Start managing your child's myopia today
MiSight® 1 day is the first and only FDA-approved* soft contact lens proven to slow myopia progression in children, aged 8-12 at the initiation of treatment.10† This parent-approved myopia solution will set your child up with the successful future they deserve. Over ninety percent of parents whose age-appropriate children wore MiSight® 1 day contact lenses reported that their children were happy11≠ and strongly preferred them over glasses.12±
Myopia management could mean less worry for tomorrow. Find a certified eye care professional near you and ask about MiSight® 1 day. 
†Compared to a single vision 1-day lens over a 3-year period.
≠Overall experience as defined as children's comfort, vision, lens handling, and freedom from spectacles. Children aged 8-15 years.
±95% - 100% of children expressed a preference for contact lenses over glasses at each visit over 36 months.
Indications and Important Safety Information. Rx only. Results may vary.
ATTENTION: *USA Indication: MiSight® 1 day (omafilcon A) soft (hydrophilic) contact lenses for daily wear are indicated for the
correction of myopic ametropia and for slowing the progression of myopia in children with non-diseased eyes, who at the initiation of
treatment are 8-12 years of age and have a refraction of -0.75 to -4.00 diopters (spherical equivalent) with ≤ 0.75 diopters of
astigmatism. The lens is to be discarded after each removal. Canadian Indication: MiSight® (omafilcon A) Soft Contact Lenses for
Myopia Control are indicated for the correction of ametropia (myopia and hyperopia) in aphakic and non-aphakic persons with non-
diseased eyes in powers from -20.00D to +2.00 diopters. The lenses may be worn by persons who exhibit astigmatism of -2.00
diopters or less that does not interfere with visual acuity. MiSight (omafilcon A) Soft Contact Lenses for Myopia Control may reduce
the rate of myopia progression in children (6-18) and correct ametropia. Reduction of myopia progression was observed in children
with wearing time of 12 hours (8-16 hours) per day, 6.4 days (5-7) per week in a clinical study. Permanent myopia control after lens
treatment is discontinued is not supported by clinical studies. MiSight (omafilcon A) Soft Contact Lenses for Myopia
Control are indicated for single use daily disposable wear. When prescribed for daily disposable wear, the lens is to be discarded
after each removal. Warnings: Problems with contact lenses could result in serious injury to the eye. Do not expose contact lenses
to water while wearing them. No overnight wear. Patients should exercise extra care if performing potentially hazardous activities.
Adverse events: Including but not limited to infection/inflammation/ulceration/abrasion of the cornea, other parts of the eye or
eyelids. Some of these adverse reactions can cause permanent or temporary loss of vision. If you notice any of the stated adverse
reactions in your child, immediately have your child remove the lenses and contact your eye care professional.
Sources:
Yang M, Luensmann D, Fonn D, Woods J, Jones D, Gordon K, Jones L. Myopia prevalence in Canadian school children: a pilot study. Eye (Lond). 2018 Jun;32(6):1042-1047. doi:10.1038/s41433-018-0015-5. Epub 2018 Feb 2. PMID: 29391573; PMCID: PMC5997685.

https://eyesoneyecare.com/resources/myopia-talk-how-to-craft-patient-communication-with-parents-guardians/
https://opto.ca/sites/default/files/resources/documents/childrens_vision_and_screen_time_en_march_2018_0.pdf

 

Gifford P, Gifford, K L. The Future of Myopia Control Contact Lenses. Opt Vis Sci. 2016;93(4):336-43.

Wolffsohn JS, Calossi A, Cho P, et al. Global Trends in Myopia Management Attitudes and Strategies in ClinicalPractice. Cont Lens Anterior Eye. 2016;39(2):106-16.

Chamberlain P et al A 3-year Randomized Clinical Trial of MiSight Lenses for Myopia Control. Optom Vis Sci 2019;96:556-567.

CVI data on file, 2018. 3- year study report.

Sulley A et al. Wearer experience and subjective responses with dual focus compared to spherical, single vision soft contact lenses in children during a 3-year clinical trial. AAO 2019 Poster Presentation. ​