Eye Care Professionals Can Begin Fitting the World's First One-Day Soft Contact Lens
Shown to Substantially Slow the Progression of Myopia in Children1
Richmond Hill, Canada, January 10, 2018 — Millions of children across Canada are poised to benefit from a breakthrough therapy that addresses the fast-growing issue of myopia (nearsightedness), which is projected to negatively affect more than 50 percent of the world's population by 20502.
Beginning January 10, the CooperVision MiSight® 1 day contact lens will be available for fitting by Eye Care Professionals. It is the world's first one-day soft contact lens clinically proven to substantially slow the progression of myopia in children.
"In the short term, myopia robs children of their ability to fully participate in everyday life," said Alexandra Donkin, Country Manager, CooperVision Canada. "Correcting it is only part of the battle, since the condition can worsen as a child matures. The MiSight® 1 day contact lens has been specifically developed to control that progression, which can significantly reduce the risk of myopia-related complications and vision loss later in life."
Myopia significantly increases the risk of retinal detachment and myopic maculopathy, with even low myopia levels associated with a higher prevalence of glaucoma and cataracts3. MiSight® 1 day has been shown to reduce myopia progression by more than half versus a single-vision one-day lens1,4. Over three years, children wearing MiSight® 1 day had 59 percent less myopia progression and 52 percent less axial elongation on average than those wearing a single-vision one-day lens1.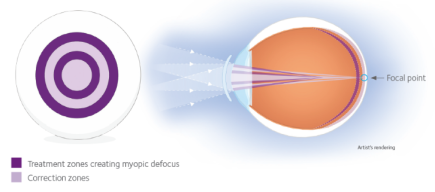 The innovative contact lens is designed for children who have a myopia prescription from -0.25 to -6.00. Its ActivControl® Technology addresses both axial elongation and refractive error4. Two treatment zones create myopic defocus, with image focus in front of the retina rather than behind it to slow axial elongation, while two correction zones fully correct myopia in all gaze positions. These zones ensure consistent myopic defocus across all gaze positions and prescriptions.
Ease of Fitting, Wear and Care
For Eye Care Professionals, MiSight® 1 day is as easy to fit as a single-vision soft contact lens. They benefit from repeatable outcomes with minimal chair time and follow-up visits, compared to therapies such as OrthoK.
The lens was also designed for children's ease of use and parental peace of mind. In a multi-center study, 100 percent of children who had never worn contact lenses before found MiSight® 1 day easy to remove after one month of wear4. After a single month of wear, 85 percent of children said the lenses were easy to insert4. Children were found to have not changed their daily activities, and their wearing experiences were similar to those of children wearing a single-vision lens1.
Parents in the same study also had a highly positive response, noting their children could mostly manage their lens wear independently. Prior to dispensing contact lenses, less than half of the parents were extremely at ease with their child wearing contact lenses, but this increased significantly to 79 percent after just one month and remained high through the two-year mark4. After their children had worn MiSight® 1 day contact lenses for three years, 100 percent of parents rated their children "happy" with the overall experience1,5.
"Ensuring a positive experience for Eye Care Professionals, children and parents alike has been an important aspect of the MiSight® 1 day program, knowing that for the therapy to be effective, the lenses have to be embraced by all three groups," said Alexandra. "We are also offering it to the market at a highly affordable price point to help make it widely accessible, especially in the face of the growing public health burden caused by myopia."
CooperVision is donating five percent of MiSight® 1 day sales to support Our Children's Vision efforts worldwide.
MiSight® 1 day lenses (omafilcon A, 60% water content) are available with an 8.7 mm base curve and 14.2 mm diameter in sphere powers from -0.25 to -6.00 in 0.25D steps.
For more information, please visit coopervision.ca.
# # #
1 Chamberlain P, Logan N, Jones D, Gonzalez-Meijome J, Saw S-M, Young G. Clinical evaluation of a dual-focus myopia control 1 day soft contact lens: 3-year results. Presented at: British Contact Lens Association Clinical Conference, Liverpool, England.
2 Holden BA, Fricke TR, Wilson DA, et al. Global prevalence of myopia and high myopia and temporal trends from 2000 through 2050. Ophthalmology. 2016;123(5):1036-1042.
3 Flitcroft DI. The complex interactions of retinal, optical and environmental factors in myopia aetiology. Prog Retin Eye Res. 2012;31(6):622-660.
4 Data on file, CooperVision.
5 Children ages 8-15.
About CooperVision
CooperVision, a unit of The Cooper Companies, Inc. (NYSE:COO), is one of the world's leading manufacturers of soft contact lenses. The Company produces a full array of monthly, two-week and daily disposable contact lenses, all featuring advanced materials and optics. CooperVision has a strong heritage of solving the toughest vision challenges such as astigmatism and presbyopia; and offers the most complete collection of spherical, toric and multifocal products available. Through a combination of innovative products and focused practitioner support, the company brings a refreshing perspective to the marketplace, creating real advantages for customers and wearers. For more information, visit www.coopervision.com.
About The Cooper Companies
The Cooper Companies, Inc. ("Cooper") is a global medical device company publicly traded on the NYSE (NYSE:COO). Cooper is dedicated to being A Quality of Life Company™ with a focus on delivering shareholder value. Cooper operates through two business units, CooperVision and CooperSurgical. CooperVision brings a refreshing perspective on vision care with a commitment to developing a wide range of high-quality products for contact lens wearers and providing focused practitioner support. CooperSurgical is committed to advancing the health of families with its diversified portfolio of products and services focusing on women's health, fertility and diagnostics. Headquartered in Pleasanton, CA, Cooper has more than 10,000 employees with products sold in over 100 countries. For more information, please visit www.coopercos.com.
Media Contacts: 
Mike McDougall, McDougall Communications for CooperVision, Inc.
mike@mcdougallpr.com or +1-585-545-1815 (mobile)