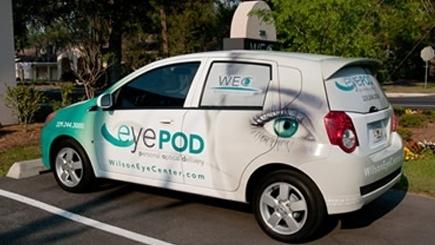 Eye care professionals are committed to giving the best possible service to their patients. But few have gone the extra mile like Dr. Steven Wilson of Wilson Eye Center in Valdosta, Georgia, who delivers eye care to patients and stands up for them in court. As part of its own commitment to helping eye care professionals build their practices, CooperVision interviewed Dr. Wilson about his approach to customer service.
Ensuring patient access to quality care
In 2010, Dr. Wilson began a lawsuit to prevent insurance providers from requiring that independent practitioners use the insurer's own lab services for materials, including contact lenses. Dr. Wilson fought to ensure that he could provide the full range of services his practice offers to all his patients. Imposing the delay and bureaucracy inherent to going through the insurer's system on his patients was not acceptable to his standard of customer service. The Georgia Supreme Court upheld key parts of the suit, and Dr. Wilson was able to give his patients the excellent service they had rightly come to expect.
Delivering local service elevates visibility and recognition
Defending his principles in the courtroom is not the only way Dr. Wilson delivers customer service. His practice literally delivers. Dr. Wilson wanted a way to demonstrate that easy, quick access to vision correction was a priority for him and for his associates. The solution? A novel optical delivery service they dubbed EyePOD for Personal Optical Delivery. EyePOD will deliver to Wilson Eye Center patients anywhere in the practice's home county and will do it at no cost to the patient.
"We average 140 – 170 deliveries a month and heavily promote this service," said Dr. Wilson. "We want to be visible and want patients to take advantage of it."
Dr. Wilson and his team let no opportunity go to waste. Even the EyePOD delivery vehicle itself is prominently branded, right down to eyelashes on the headlights. The highly visible car is a common sight on the roads around Valdosta, and a rolling reminder that Wilson Eye Center goes out of its way to provide convenience and service.
Reputation is its own reward
This emphasis on customer care, with the assurance of service and access for the broadest range of patients, differentiates Wilson Eye Center and makes it a respected example for eye care professionals.
"It's about patient service," said Dr. Wilson, "but it's also about putting the power back in the hands of the eye care professional to use their license to its fullest."
Dr. Wilson's commitment has elevated his reputation nationally. His success in the Georgia court case led to similar changes in 12 other states, and he has been invited to speak on crucial business topics related to reimbursement and patient access.